Congelados de Navarra in peak broccoli and cauliflower season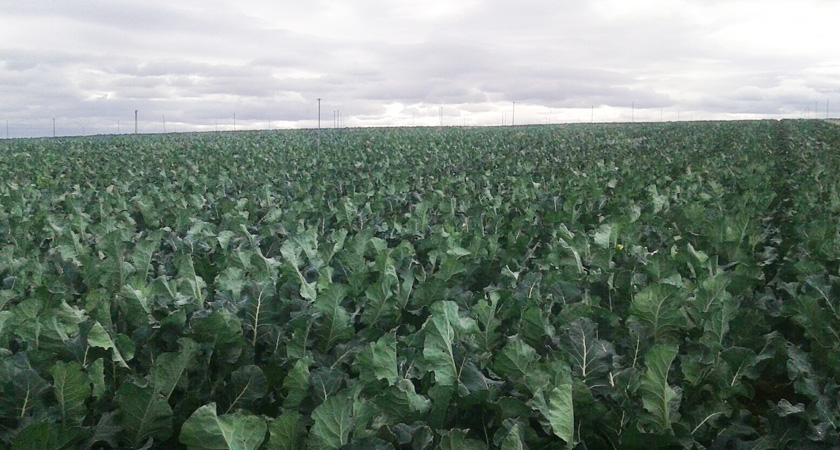 At Congelados de Navarra we are fully immersed in the broccoli and cauliflower season: two of the most important vegetables for us in terms of production and sales.
The first varieties of cauliflower are coming to a strong end, with a higher than expected level of production and excellent quality. Broccoli, meanwhile, has successfully exceeded predictions for its first month in season, with production reaching double that anticipated.
The harvest's good results in terms of performance and quality are largely due to the location of our crops. The Ebro River Valley [Ribera del Ebro] is an ideal zone for growing quick-frozen broccoli, as well as other cruciferous vegetables, its soil and climate being two of the main features reflected in the quality of the final product.
The main benefits of our land's location include:
- High-quality, productive soil, due both to its structure and its fertility.
- Excellent climatic conditions, which allow broccoli to be produced from September to June, whereas in other parts of Europe its production is limited to the summer months.
- Strong, dry wind helps to keep the product healthy without the need for phytosanitary treatment to prevent or cure fungal diseases, such as Alternaria or Mildew. This is particularly helpful for the production of organic crops.
- The quality and availability of the water used for cruciferous vegetables and the crops in rotation with them. Most of the water comes from the Navarre Canal, the River Aragon, the Yesa Reservoir and the River Ebro.
Our production process for quick-frozen cauliflower and broccoli is designed to retain the natural properties of these vegetables throughout their usable life. This makes their texture, colour, taste, aroma and nutritional properties comparable to those of fresh products.
You might be interested in: "8 reasons to eat frozen vegetables"
The process is essentially a simple one, but it is based on the complex alignment of multiple parameters and control systems, in order to provide the consumer with an easy-to-prepare, nutritious product with a high level of freshness and a great aroma.
At Congelados de Navarra we make a daily effort to adapt ourselves to our clients in the retail, food service and food industry sectors. With the help of the best farmers and the most advanced technology, we look after each detail, from seed selection to harvest. In this way, we manage to retain virtually all the nutritional properties of our vegetables.