Who we are
We are a market leading frozen food company offering a wide range of high quality frozen vegetables. Our core product ranges consist of blanched, grilled, pre-fried and BBQ vegetables, as well as a wide range of mixes (vegetables blended with frozen poultry, meat, seafood, rice, pasta, dressings our flavourings).
We make an effort day by day to meet our customers needs in the retail sector, food service and food industry. With the help of the best farmers and the most advanced technology we look after every detail in every product to achieve top quality, managing to retain practically all the nutritional properties of our greens.
---
The value of our human team
At Congelados de Navarra we have one clear aim: to be the best company specialising in frozen vegetable solutions in Europe.
In order to achieve this, we rely on a team that is dedicated to certain values which govern our day-to-day actions: transparency, ambition, efficiency, innovation, commitment to stakeholders, safety, humility, talent, flexibility and alignment.
At Congelados de Navarra we're all going in the same direction.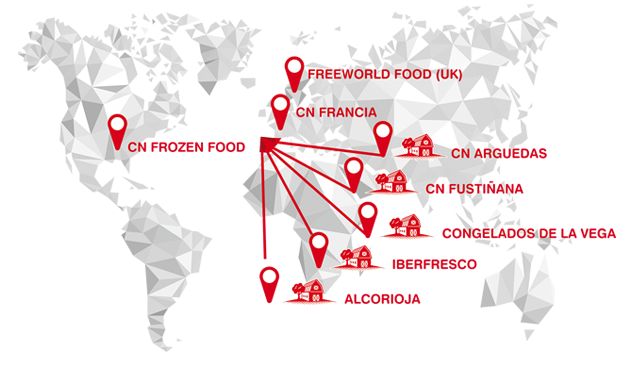 We get to you the best from our fields thanks to our six production facilities. Three of them are located along the Ebro River in Navarra and la Rioja, another one in Alicante, all locations are cultivation areas of all kinds of world-renowned vegetables and crops. We also manage all the industrial activity of IBERFRESCO in Valladolid.
We are all over the world but also close to you. Via our trading network we take the market's pulse day by day in every corner of the world. Our products are sold via our headquarters in Navarre, a sales office in France, and our British subsidiary Freeworld Foods in Spalding (UK). In the United States we have a presence with our subsidiary CN frozen food, LLC. Furthermore, we have a wide network of distributors/importers on all 5 continents who deliver our products to anywhere on the planet.